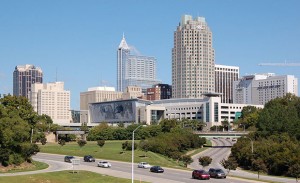 There's an art to knowing if a neighborhood is a great one, and it goes far beyond tree-lined streets or summer block parties.
Let's assume you stumble upon what appears to be your ideal neighborhood in Cary NC. It's close to the things that matter to you and it's filled with the things you love. Fantastic. But even if it seems to tick all your boxes, you shouldn't be sold on it just yet.
Why? Because while most homebuyers don't realize it, there are 7 important things you really need to do before allowing yourself to fall head over heels with any particular location:
1. Get a bird's eye view. Type the address in Google Maps. Then zoom out. And zoom out again. Maybe even once more. You're looking to see any potential things within a five mile radius that are not noticeable when standing in street view. Think factories, sewage treatment plants, any large construction projects, etc. Anything that might affect the smell, noise, air quality, appearance, or traffic conditions of your neighborhood in Raleigh NC now or in the future.
2. Chat up the neighbors. Suck up your courage and knock on doors. With your friendliest smile, say that you're thinking of moving into the area and ask them how they've enjoyed living there. You're not only looking to hear what they think, you are looking to see how they react to you in general. You don't want to inherit any simmering feuds or bad feelings along with a property. And don't just go next door – go across the street and to the neighbor directly behind the property, too.
3. Come back at night. What might seem peaceful during the day can turn into a party spot at night, especially if there are nearby colleges or universities. So visit the neighborhood at various times of day – but especially in the evenings, when loud music or big crowds can really change your perspective.
4. Call the Raleigh city hall. Ask whether there's any planned construction within the next few years – like a new school, shopping center, or even a new highway. Some things could increase property value, while other things might diminish it. Plus you'll want to know whether to expect to live in or near a significant construction area for a length of time.
5. Search the neighborhood for crime stats. It's an unfortunate but necessary reality. You might be surprised to learn that almost every neighborhood has known sex offenders living nearby, and this shouldn't necessarily prevent you from buying. Sex offenses vary widely in nature, and it doesn't make every offender dangerous. But it makes sense to get an understanding of who might be living near you or your family, if only to help educate your children if you have them and take reasonable precautions yourself. Same is true for any type of crime – if there are a lot of car break-ins in the area, for instance, you'll want to take steps keep your own property as safe as possible.
6. Check the Wake County school district. Even if you don't have school age children yourself, future buyers might. It always pays off to live in a great school district, and invariably makes selling a home easier in the future. Be sure to check greatschool.org ratings for the elementary, middle, and high school respectively that is designated to your property. But don't just trust the score, either – be sure to read the parent reviews, as well. Sometimes schools that underperform on tests are otherwise well regarded in the community, or are in the process of finding their feet again after a staff shakeup.
7. Check the walk score. We live in a car culture, but it can be wonderful to have places worth walking to – like nearby stores, parks, or train stations. Plug in your address to walkscore.com to see how easy it would be to live there without a car – whether that means easy access to public transport or just a simple way to buy milk in a pinch. Unless you are actively craving somewhere remote, in general, the higher the walk score, the better.
If you have any questions or want to know more about neighborhoods in Raleigh or neighborhoods in Cary, please contact Raleigh Cary Realty.