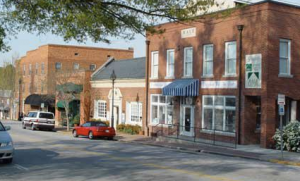 Welcome to the historic and charming town of Wake Forest, North Carolina! The recent completion of the 540 outer loop has opened up new doors to this nice town by providing much better accessibility and convenience! Wake Forest is located in northern Wake County, near the Raleigh and Falls Lake area.
Along with the addition of the 540 loop came some of the Triangle's most popular, planned communities, Wakefield Plantation & Heritage at Wake Forest! Wakefield Plantation is an exceptional all-inclusive 2,200-acre community with breathtaking natural beauty. Residents can enjoy an active lifestyle with world-class golf plus tennis and swimming, playgrounds and clubhouse activities for year-round enjoyment. Visit our single-family homes, townhomes, villas, and custom designed estates. Experience the impressive fairways and stunning beauty of our renowned private golf course. With so much to offer, Wakefield Plantation is the perfect place to live, work and play!
SEARCH FOR HOMES IN WAKE FOREST, NC!
Heritage at Wake Forest also provides similar features and even more new, housing options since the development is not as established as Wakefield Plantation.
Outside of these larger, planned communities, there are many other custom home neighborhoods in Wake Forest that provide larger lots and more privacy than other surrounding areas. Wake Forest also has many historic older homes on Main Street. Wake Forest has grown rapidly while still maintaining its small town charm.
Because of this rapid growth, one challenge that still remains in Wake Forest is getting in and out of the area. Even though 540 has made it somewhat more accessible, dealing with highway 1 and 1A can still be challenging at many times of the day outside of just rush hour.
Do you want to know the best neighborhoods in Wake Forest? Visit our website to learn more. You can also see the market trends for Wake Forest that are updated daily!