MacGregor Downs in Cary is home to the magnificent MacGregor Downs Country Club and is one of the more exclusive neighborhoods in the area. The homes are all nestled amongst the mature landscaping and trees you would expect in a neighborhood like this. The community was started in the seventies and is still highly desirable with most homes selling quickly. There are luxurious million dollar homes with views of MacGregor Downs lake and the fairways of the golf course. In 2012 there were 28 home sales in MacGregor Downs and they ranged in price from $277,500 for a townhome  to $1,000,000 for a lakefront estate.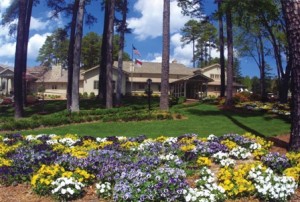 Most of the homes sold in MacGregor Downs in 2012 sold in less than ninety days and ranged in size from 2500 square feet to 5500 square feet. 11 homes have sold in MacGregor Downs for over $1 Million the most expensive to date was $1,400,000. MacGregor Downs Country Club is a private club that offers a championship 18 hole golf course, 11 tennis courts, junior olympic swimming pool with kiddie splash zone and boating and fishing on MacGregor Lake. There is a fine dining restaurant along with casual and outdoor dining options.
Residents of MacGregor Downs are in the heart of Cary with access to all the features the city has to offer. Great restaurants, shops, medical facilities are all minutes away. A whole range of supermarket choices along with farmers markets and specialty stores offer the everyday items and the more exotic and all a short drive away. The neighborhood is located at the intersection of US Hwy 1, US Hwy 64 and Tryon Road which makes it easy to get to Raleigh, Research Triangle Park and Jordan Lake. Some of the restaurants nearby can be as fancy as the Five Diamond Herons at the Umstead Hotel to a pint of Guinness at the Hibernian on Kildaire Farm Road, fresh bread from Le farm is a an easy tradition to fall into.
Cary is no stranger to awards and is often praised as one of the safest cities in America, it is now the seventh largest city in North Carolina and continues to grow. Cary has been recognized by Money Magazine as one of The Best Small Cities in America and one of the Best Places to Live. Being part of the Triangle of North Carolina it offers many desirable features that make it a great place to retire, open a business, relocate for a healthier more relaxed way of life. The proximity to three top universities, NC State, UNC Chapel Hill and Duke makes it home to a pretty smart group of people with two thirds having a college degree. Cary is home to some wonderful parks, walking trails and cultural resources. The Hemlock Bluffs Nature Preserve is a wonderful retreat of trails, streams and woods with nature classes and bird watching programs to educate both young and old five minutes from MacGregor Downs.
For more information about MacGregor Downs neighborhood (one of the best neighborhoods in Cary), contact Raleigh Cary Realty and we'll be glad to help you Search for Homes in MacGregor Downs and Golf Club Community in Cary.