The Holly Glen Subdivision in Holly Springs is a great mix of new construction custom built homes and pre-owned homes from around 1998. The still growing neighborhood is ideally located minutes from Downtown Holly Springs and Hwy 55 which now is connected to the Triangle Expressway which connects Holly Springs to Apex, Research Triangle Park and Raleigh Durham International Airport. Folks looking to get more house for the money than say the same in Cary, and enjoy a quaint small town feel would be wise to check out the homes for sale in Holly Glen.
Holly Glen has homes that range in price from about $200,000 to $370,000 and the average is about $250,000. Most of the homes in Holly Glen are single family detached and range in size from a three bed, two and a half bath, 1900 square foot home all the way up to a five bedroom three bath 3500 square foot home. Prices vary based on size and age and there are lots of options depending on your preference for new construction versus an older home. Lot sizes are about a quarter acre.
Recent sales of homes in Holly Glen for the end of 2012 had an average of $104 a square foot with a high of $121 and a low of $92, some of the new custom built homes can get up to $140-$150 a square foot, and with that you can expect custom features like stainless steel appliances, granite countertops, hardwood floors, stone exteriors, etc.
The town of Holly Springs is a growing town in what is known as The Triangle of North Carolina, the Triangle, originally getting its name from the location of the three Universities of NC State, Duke and UNC Chapel Hill. Research Triangle Park home to major international companies like IBM, Lenovo, Cisco Systems, GlaxoSmithKline and thousands of employees also shares the name. Holly Springs has a wonderful downtown area with parks and shops, restaurants like the Bass Lake Draft House and the newly opened Little Hen.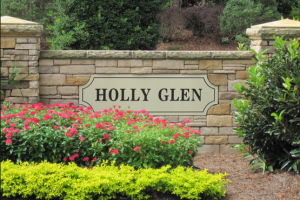 Holly Glen Subdivision is a short drive from a new shopping center scheduled to open in March 2013 with a Target, Marshalls, Dick's Sporting Goods, Olive Garden to name a few. There are more commercial plans for downtown with a combination of shops and offices and a restaurant with a rooftop bar. Families looking for homes in the Cary, Apex, Holly Springs area will be interested to know that Bloomberg Business named Holly Springs as the best town in North Carolina to raise kids.
If you are considering a move to the Greater Raleigh NC area, you should consider the charm of Holly Springs, NC – a town with some of the best amenities in the area! Any of the Real Estate Agents at Raleigh Cary Realty would be glad to give you more information! Call us at 919 439 0965