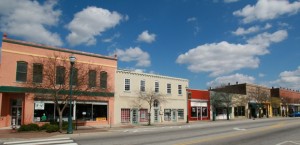 What You'll Find in Fuquay Varina, NC
A Small Town that came about when two towns (Fuquay and Varina) split by Railroad Tracks decided to merge. Fuquay is a fast-growing, business-friendly community that invites newcomers yet preserves its safe, relaxed, small town appeal.
Fuquay Varina is located in the southern most part of Wake County.  It is developing rapidly but still maintains a quaint downtown area and small town feel.  Fuquay has many new subdivisions and shopping moving into the area but is still close to all of the activity of Raleigh and the surrounding areas. See some great neighborhoods in Fuquay!
It's in a unique location – not just because it's located near Raleigh – it's also one of the closest Wake County Communities to Fayetteville.  Because of it's unique location –  Fuquay Varina is expected to experience a faster paced Real Estate Market over the next 5-10 years as a result of 1) the expansion of Fort Bragg, 2) a planned expansion of the Route 401 corridor from Fayetteville to Raleigh, 3) the completion of I-540, 4) the Veridea development project will create 30,000 new jobs, and 5) the completion of the Novartis pharmaceutical plant, which started initial production of flu vaccines in 2011.
More stats and homes for sale in Fuquay Varina
There are many neighborhoods in Fuquay that qualify for USDA 100 percent financing, and because of that, there are many first time home buyers in the areas.  There are also established neighborhoods with fairly large lots, on mostly flat terrain.
No Matter where you want to buy a home in The Raleigh Cary Area, call us! We'd love to help 919 439 0965