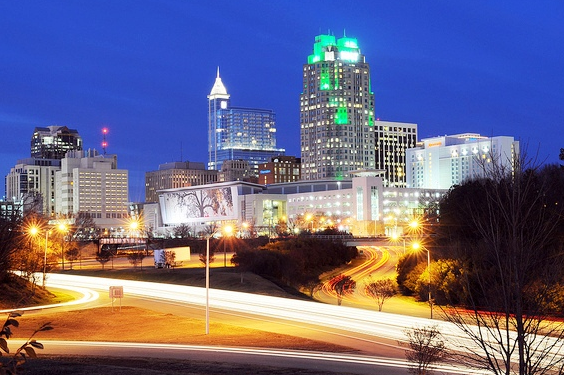 One of the best neighborhoods in Raleigh is Renaissance Park located in one of the BEST spots!  This community is what the South West area of Raleigh has been needing for years. The location of Renaissance Park Raleigh NC couldn't be better, just 2 miles from Downtown Raleigh, one of the hottest areas in Raleigh!
Many companies, including Red Hat have chosen downtown Raleigh for their headquarters!  It's also located near the Farmer's Market!
There's a long curvy road in front of the Raleigh Golf Association on Tryon road, Renaissance Park is located between that section of Tryon Road and Wilmington Street / Highway 70.  
It's still being developed, but the finished area will include "Mixed use" of  Commercial and Residential properties on 29 acres, 49 acres of open space and 29 acres of tree preservation.  Price ranges for new Townhouses in Raleigh are starting in the $140's to single family homes in the mid $200's.
The Recreation Center which was modeled after Tryon Palace in New Bern, NC will have over 7,000 square feet with a fitness center, pool, volleyball court, two tennis courts and an English Garden!
Again with the Location!  We can not over emphasize that this property is located in a MUCH desired area of Raleigh NC.  The arrival of Citrix and software firm Red Hat, which together are expected to dump 1,000 highly paid workers into the area over the next 15 months, has given downtown boosters hope that such vibrancy could soon become an everyday experience.
"Due to the momentum they're providing, I believe the locals are kind of catching on to that," said G Patel, a restaurateur who will open his third establishment on Fayetteville Street later this year. "Even during the weekdays we're seeing foot traffic increase downtown. Before, on Sunday, Monday and Tuesdays it would be a ghost town."
City:
Raleigh, North Carolina
Location:
1363 Ileagnes Road
Style of Homes:
A variety of Townhomes and Single Family homes.
Price Range:
From $140's to $400k+
Neighborhood Facts:
With the goal of creating a balanced atmosphere filled with the best qualities of the city and the highly coveted historic neighborhood setting, Renaissance Park Raleigh NC not only highlights the architectural appeal of the 18th century, but also the attractive gardens and landscaping techniques.
Shaped by well-groomed boxwood and greenery and filled with colorful roses, tulips and other distinct flowers, these gardens, inspired by the colonial English and French gardens, are thoughtfully placed through the Renaissance Park Neighborhood. Typically decorated with brick pathways and white statuary, these well-maintained outdoor spaces have the ability to refresh the soul and inspire the mind.
For more information about Renaissance Park Raleigh NC, contact Raleigh Cary Realty and we'll be glad to help you Search for Homes in Renaissance Park, Raleigh – we think it's one of the Best Neighborhoods in Raleigh!