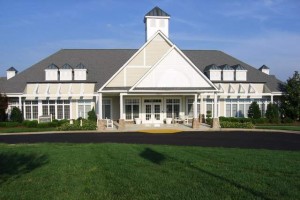 Heritage Pines is an Active Adult community in the heart of Cary in North Carolina. The community offers a mix of townhomes and single family homes most priced from the low to mid $200,000. The homes were built from 2000 to 2005 and range in size from a 1300 square foot townhouse to a 2500 square foot single family ranch style home. There are just under 300 homes in Heritage Pines and a wide variety of activities and amenities for the residents to enjoy.
The clubhouse at Heritage Pines  is the central spot in the neighborhood and there are many events held throughout the year and plenty of different clubs to join. Also in the clubhouse is a card room, craft room, library.The community has a heated pool, tennis court, bocce, horseshoes, plenty of activities for the active adult fifty five and better. If you are looking for 55 plus communities in Cary that offer plenty of activities then you'll want to look at the homes for sale in Heritage Pines.
Recent home sales in Heritage Pines have ranged in price from $208,000 for a 1400 square foot townhome up to $300,000 for a 2500 square foot detached ranch plan. The average sale price in the neighborhood for the year May 2012-13 was $244,000 which was about $137 a square foot and there were fourteen homes sold in that period. The average amount of time it took to sell a home in Heritage Pines was a little over three months with some homes selling in as little as a week. To allow for residents to enjoy all the activities and outings organized at Heritage Pines your lawn care is taken care of by the community and there is a monthly HOA dues that covers the use of the facilities as well.
Heritage Pines is located in the heart of Cary, North Carolina, a town that is constantly winning awards for safety, planning, and resident satisfaction. The town of Cary has grown tremendously in recent years as the number of transplants from up north and out west have discovered all it has to offer. It is located in an area known as the Triangle and is surrounded by great universities such as Duke, UNC Chapel Hill and NC State. World class hospitals are a short drive in all directions and Cary is home to many of the people who work at Research Triangle Park a hub of technology and innovation where more than 170 global companies have a presence. With all these people moving to Cary it is no wonder that the town offers a wide variety of restaurants, shopping, entertainment and outdoor activities. New homeowners of Heritage Pines are a stones throw away from great restaurants such as LeFarm, Zpizza, Tribeca Tavern, Doherty's Irish Pub.
Living in Heritage Pines you will find endless ways to occupy your time from walking the many trails in and around Cary to exploring the wonderful parks or for something a bit more leisurely an NC Symphony concert at the Koka Booth Amphitheatre. The many art museums,theaters and concert halls of both Durham and Raleigh along with festivals, farmers markets, sporting events like the NHL Carolina Hurricanes, ACC sports not to mention the many wonderful private and public golf courses will ensure you keep up an active adult lifestyle.
If you are looking for more information about homes in Heritage Pines or in Cary NC, please contact us!  Call Raleigh Cary Realty to view of these great homes today!