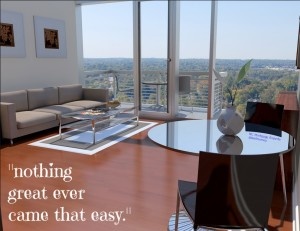 One of the most challenging obstacles to buying your first home is saving enough money for the down payment and closing costs. By definition, first time home buyers do not own a home and therefore must currently be renting. How can you pay rent and save for a down payment at the same time? For many people, it is virtually impossible.
The state of North Carolina provides incentives – mostly financial assistance – for its residents who are first time home buyers and need help with the down payment and closing costs. The agency in North Carolina that provides assistance to first time home buyers is The North Carolina Housing Finance Agency.
In North Carolina, there are no outright first time home buyer grants available, but there is one program that is very close: The American Dream Downpayment Initiative. First time home buyers can get up to $8,000 for use toward the down payment and closing costs. This is actually a loan, but carries no payments and has a zero percent interest rate. The $8,000 doesn't have to be paid back for 30 years. In effect, you are getting a grant of the value of interest on a $8,000 loan for 30 years, which at 7% interest rate, amounts to over $9,700 in interest that you would save.
There are also many local First Time Homebuyer Programs:
Cumberland County First Time Homebuyers Program (FTHB) (910) 323-6112
Durham First Time Homebuyers Program (FTHP) (919) 560-4570
Orange County HOME Down payment Assistance Program (919) 644-3056
Raleigh Down Payment Assistnace Program (919) 996-4330
Wilson County Affordable Home Ownership Program (252) 399-2230