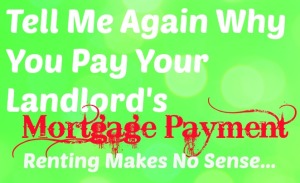 In February of 2014 – the newest part of the Government's program to help people buy a house is in place!  This is great news for folks interested in NC First Time Home Buyer Programs!
If you are ready to move out on your own, and Kiss Your Landlord Good-bye…  CONGRATULATIONS! 
We offer first time homebuyer programs from NC Housing Finance Agency.  The NCHFA program allows you to purchase a home with little or no money out of pocket, can offer you a Tax Credit (in the form of MCC) and might allow you to purchase a home with a credit score of less than 640! (they accept a 600 credit score!)! 
So, if you are a 1st time home owner (or you haven't OWNED a home in 3 years) ask us about the NC First Time Home Buyer Programs we have available to you!
The NC Housing Financing Agency Program works with FHA, VA, USDA AND Conventional loans.  You might qualify for a 3% government GRANT that will help you buy a home!

Here are FIVE THINGS we think every First Time Home Buyer should consider before making that move:
When you buy a House – you get a Raise!  Uncle Sam definitely sees benefits in having homeowners, so you get to "write off" the interest you pay each month on your taxes!  We advise First Time Home Buyers to see a tax professional, and consider changing your W-4 when you purchase!  This way, instead of the government giving you a $2400 refund… you get a $200 RAISE! (seriously, you can bring home more each month and not owe on April 15!)!
You CAN get into a house with no money –  but it's HARD.  We would suggest that you have at least $1500 if you want to buy a house.  Yes, you can get the seller to pay closing costs… and yes, you can use your VA benefits (if you have them) to buy with no money down, and / or you can use USDA no money down loans… but you're going to want an Inspection of the home, you will have to pay for your Home Owners Insurance, your part of the taxes… you need a LITTLE money!  REMEMBER, with NC Housing Finance Agency, you might qualify for a $8,000 Grant!
Go ahead and meet with a mortgage lender EARLY in the process!  Let them peek at your credit, look at your paystubs and give you an honest assessment about your decision to purchase!  You might think you have to wait 6 months – and we might be able to tell you NOW is the time!  Even if it IS six months – let us talk to you about the taxes, and insurance and the tax benefits!  Let us HELP YOU get your credit in order – it is what they do all day, and we don't charge for that help! (Here are some questions to ask your lender!)
Use a Real Estate Agent (period).  You will NOT get a better deal without one.  Do NOT go to a new home Community and think that the sales person there is going to help you get the best deal… get a Real Estate Agent that is working for YOU.  That does NOT mean that you have to pay for them – you don't… but they work on YOUR behalf! (We know some GREAT ONES!)
Don't believe everything you read on the News!  Yes, the real estate market has tumbled… IN CALIFORNIA!  We live in North Carolina!  Housing sales have slowed, and there are SOME foreclosed homes available… but for the most part, this is one of the best markets in the WORLD – and it will continue to be a great investment because we have over 20 Colleges and Universities in the area, State Government (the Capitol) and MAJOR World Class Hospitals!  These are jobs that keep on tickin'… when the Economy comes back… we have the RTP, Distribution Centers, and Tech jobs everywhere!
So Relax!  You can do this!  We also offer NC Housing Finance Agency First Time Home Buyer Programs you might want to get more information on!
If you are considering a home purchase in Raleigh, Cary, Apex (or anywhere in the Triangle Area) we encourage you to work with a professional home buying team! We know what Insurance agents are going to really listen to you, and help create a policy that covers you from disasters – and one that works within your budget.  Your home is an Investment, and as such, you will want to Insure it properly!  Call Raleigh Cary Realty, our agents will answer all of your Homebuying Questions!